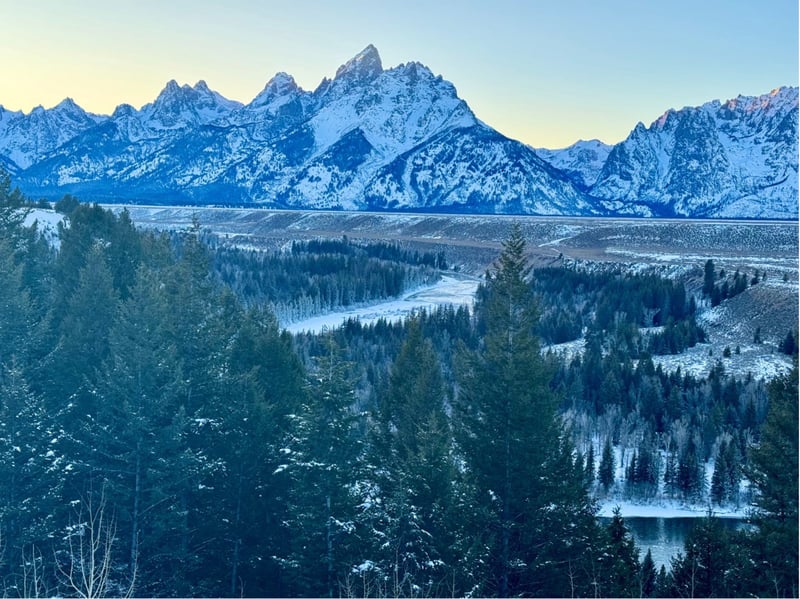 Fall is here, and with it comes a lot of excitement and innovation in the world of HR. I snapped this picture with my new iPhone 15 Pro on the first day of Fall near our Inspire headquarters office in Jackson Hole, WY. You can see that we received our first dusting of snow in the mountains over the past few days while the trees in the valley are starting to change colors.
It's a beautiful sight that motivates us to create inspiring solutions for our clients that go beyond ordinary HR products. Speaking of which, we are thrilled to be attending the HR Technology Conference on October 10th in Vegas, where we will showcase our latest AI release that leverages generative AI to enhance your HR processes and outcomes. Come visit me and my team in Booth #6626. Generative AI is a cutting-edge technology that can create new, original content based on your input parameters, such as text, images, or audio. It can help you generate smart and personalized objectives, 1-1 conversations, applied leadership and performance reviews for your employees.
Do you want to get a glimpse of our new AI capabilities before anyone else? Then you should sign up for my 30-minute webinar this Thursday at 9am PST, 12pm EST. You can register for the webinar here and we will send you the recording if you can't make it live. In this webinar, we will also discuss this important study by BCG and a team of scholars from Harvard Business School, MIT Sloan School of Management and the Wharton School at the University of Pennsylvania. This study is the first of its kind to examine the use of generative AI in a professional services setting, through tasks that reflect what employees do every day. The results have significant implications for all industries and domains. The main takeaway from this study is that AI should be implemented carefully in business, to emphasize that these tools are best used as creative assistants, teachers, and coaches, but not as substitutes for critical thinking when it comes to tasks such as strategic planning, goal setting and performance management.
If you are curious about how generative AI works and what benefits it can bring to your business, you should definitely check out these articles and studies that we have curated for you. They are from reputable sources and cover various aspects and applications of generative AI in business. We hope you enjoy reading them and learning more about this amazing technology.
Generative AI is not a pipe dream. It's a reality that is changing the way we do business. This article by Forbes will demonstrate how generative AI can create value and competitive advantage for your business:
How Generative AI Will Change Business. All You Have To Do Is Ask: This article discusses how generative AI can create new, original content based on a set of input parameters, such as text, images, or audio. It also explores how generative AI can impact various fields, such as the creative industries, product design, medical research, and marketing/advertising.
And lastly, Generative AI is not just a technology. It's a solution that can solve your business problems. This article by Microsoft Azure will show you 10 ways that generative AI and Azure OpenAI Service can address your business challenges. BTW, Inspire is utilizing this technology from Microsoft's Azure OpenAI Service:
Inspire Software is a comprehensive workflow platform that teaches and assists organizations in setting and monitoring smarter goals and better practices. It integrates science-backed principles to enhance individual and team efficiency and leadership development.
Schedule a demo now to implement AI into your organization.
Learn more about the Inspire approach at inspiresoftware.com.