What makes top employee training programs "top" material? The question poses many different perspectives on the subject, but the one that stands out the most is how the best employee training programs become so great. What goes into their creation? Their development? Their implementation?
After diving into this search for what makes the best programs truly the best, we came up with these three unmistakable traits every successful employee training program has in common:
1. Capable Leadership
Among employee training programs, one thing is crystal clear: leadership is the building block that determines success or failure. 71% of organizations do not feel their leaders are able to lead their company into the future. In order to develop new hires, a program must first address the development of leadership. Investing in leadership development builds a culture of collaboration that reinvests training costs in new hires and future employees.
Leadership. Goal Alignment. Exec Buy-in. Learn how to make a top employee #trainingprogram with these 3 successful traits:

Tweet This!
As we say at Inspire Software, "Leaders are not born. They're made." In other words, you don't just naturally come across good leaders every day – you have to invest in talent to bring out the most in talent.
2. Structured Goal Alignment
Another key trait of top employee training programs is a structured, goal-oriented culture that reflects overarching company goals. While most companies have some kind of goal plan in place, not all of them are functional or efficient. Only 51% of top team members say they have a clear sense of how major initiatives and priorities fit together. Taking the time to layout how organizational goals align with employee job functions can be the difference between a training program that sinks and one that floats.
Having a structured goal management system helps employee training programs establish expectations even before the new hires sign their employment contracts. Some goal management systems characteristics you may want to consider include:
Organizational values and goals transparency
Goal completion/progress time schedules
Defined goal metrics
Leadership dashboard
Real-time progression tracking and feedback abilities
Benchmarking strategies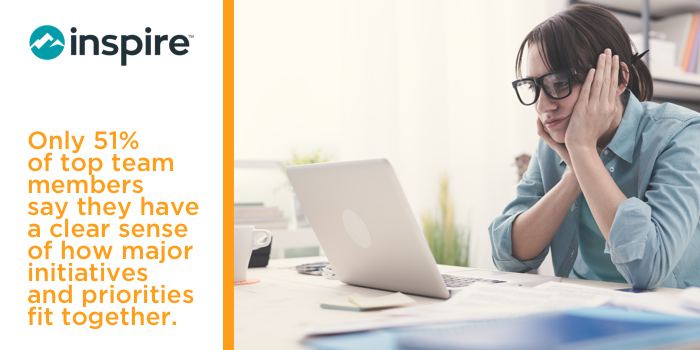 3. Dependable Exec Buy-In
The cherry on top of the employee training program is leadership buy-in. You can't implement an effective training program without the approval of upper-level management, and having the higher-ups support your program boosts its structural integrity from the top down.
To ensure you can convince executives in the success of your program use the Five Bs of Executive Buy-in:
Best Practices – use examples of mirrored success methods to explain how your ideas will benefit the company
Business Case – build a case for the change you want to make
Be Specific – clarify requests to support execs' understanding of the program
Be Assertive – present yourself as a leader, be confident that the changes you want to make will benefit the organization and explain how this will happen
Bring in an Expert – use statistics to prove changes are necessary and include projections for improvement
Gaining the approval of executives isn't easy, but it's the final step in creating a functioning system even if it seems rudimentary. However, the key takeaway isn't the approval itself, but building trust with the execs so that they'll believe and invest in future programs that sprout. It's arguably the most important trait because without dependable exec buy-in, the program could crumble, no matter how creative, structured or capable it's designed.
Build the best employee training program with these 3 undeniably successful traits:

Tweet This!
Successful employee training programs are diverse – they're made up of complex building blocks that all function as a single, cohesive unit but the thread that binds them all together is taking steps to invest in their development. Learn how Inspire Software can help your employee training program become the best version yet!