Organizations of all sizes and global locations, among diverse workplaces, across a wide variety of industries are wrestling with ways to improve the way they inspire, lead, and analyze performance. While new standards for Continuous Performance Management (CPM) are becoming more widely embraced and used in organizations today, some of the core practices of how to effectively lead and influence others toward performance excellence remain steady and true.
One of the fundamental realities of creating a culture of performance excellence is continually cultivating conversations between managers, coaches, and mentors about individual and team goals, and the key performance indicators that give us critical insight on how to better lead those individuals and teams toward their objectives. Performance excellence includes consistent one-to-one conversations between managers and direct reports to assess and discuss the skills, knowledge and motivations that an individual, team, or organization experience during the pursuit of critical objectives.
Goals aren't a wishing well you can toss a coin into and hope that you get a positive outcome. Once you initiate performance through an effective goal setting or OKR (Objectives and Key Results) process, the skills needed to effectively pursue that goal shift to an ongoing discipline of assessing an individual's, team's, or organization's performance toward the objectives you are collectively pursuing.
Looking at indicators of ability and energy related to an agreed upon goal before assigning a task can better your chances of achieving the set #goal. Learn more from @InspireSoftware:

Tweet This!
The pursuit of goals is as much art as it is a science. Behavioral Science in adult learning and motivational theory reveals that there are two key indicators of an individual, team, or organization experience through various phases of performance toward an objective--the Ability (Skills and Knowledge) and the Energy (Confidence and Motivation) to pursue the goal.
To be a successful leader in any context, you need to not only know where you're going, but you need to effectively and continually assess the journey toward the objective you're collectively pursuing. The leadership practice of Assess is all about knowing how to find the current reality in relation to a goal you want to achieve. Knowing where you are is as important as knowing where you are going.
Continually assessing your phase of performance, is the pulsating blue dot on your GPS when you're heading toward your destination. It also indicates where traffic is heavy (Red), moderately busy (Yellow), or openly flowing (Green). The phase of performance an individual, team, or organization is currently experiencing is neither good or bad, but simply information for you as a leader how you might influence others to course correct or give them the right type of leadership based on the phase of performance they are experiencing.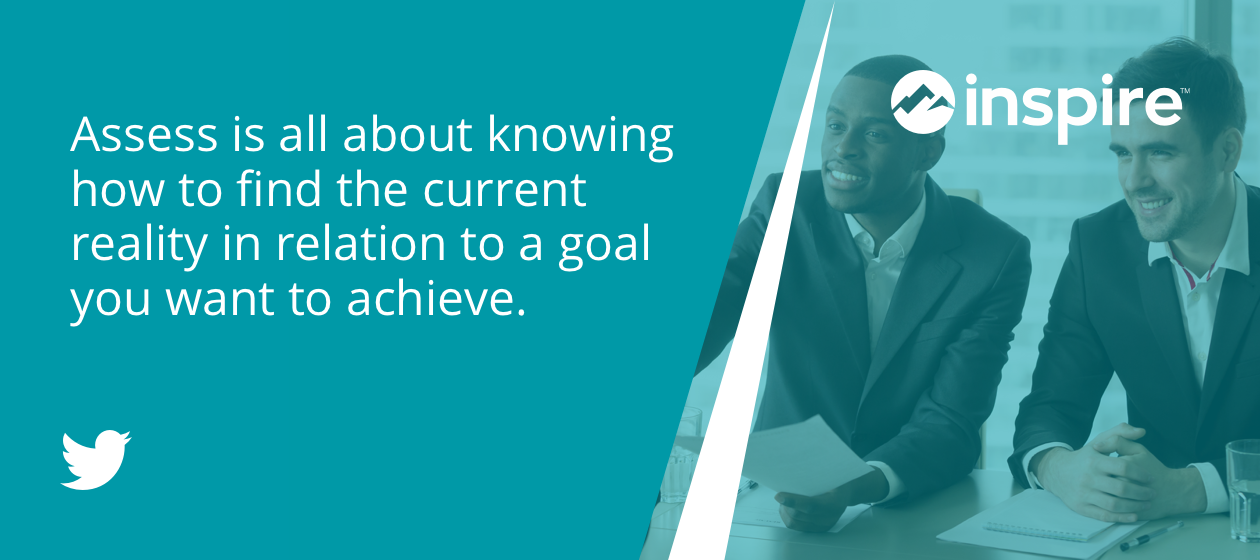 Assessing performance is a combination of analyzing the ability and energy to accomplish a goal. Ability can be high or low depending on transferable skills, knowledge, or past experiences related to a similar goal pursued in the past. Energy toward the goal could be affected by the ability of the individual or team to achieve a specific goal they are pursuing, but it also could be affected by shifts in the organizational culture, the economy, fears and concerns about job security, or a variety of other issues that may be effective their confidence or motivation to achieve an objective.
Phases of Performance
There are ebbs and flows of ability and energy when an individual, team, or organization pursues an objective. Great leaders, in any context, are aware of these ebbs and flows so they can effectively manager performance toward the desired destination. The Leadership Genius Phases of Performance describe, not explain, why you are at a certain state of performance toward a goal:
1. Curious
The Curious Phase of Performance is where you consider the time and effort you're going to need to put into achieving your goal. It may feel overwhelming when thinking about everything you have to do accomplish your goal, but working to minimize stress and focusing on your enthusiasm towards the objective will help get your started in moving toward the goal. Although an individual or team may have transferable skills from similar goals in the past, ability a new goal is low, while the energy to pursue the goal is relatively high during this phase.
2. Confronting
The Confronting Phase of Performance is where individuals, teams, and organizations naturally experience low energy because of competing priorities or the discover of new challenges related to the objective you're pursuing. In this phase, ability remains relatively low related to the final objective and energy typically lower than when you started due to the shifting variables that generate natural challenges. Focus on continually learning, identifying problems, and plenty of good feedback will help individuals and teams effectively navigate this phase.
3. Cautious
The Cautious Phase of Performance, is where your ability to achieve the goal is on the rise and your energy fluctuates depending on your motivation outlook and commitment to achieve the objective your pursuing. This is the phase where you begin to trust your ability to achieve this goal, even though your energy levels are variable. During this phase you may start offering potential solutions to the problems you discovered in the Confronting Phase. Like all phases, you will still need appropriate feedback on your performance and recognition for the progress you're making.
4. Achieving
The Achieving Phase of Performance is where your ability and energy in pursuit of the goal are both high. In this phase you may be experiencing a productive flow are work, regardless of how much progress you've made or how close to achieving the goal. As long as you remain passionate about your goal, it should not be difficult to sustain the high energy toward the pursuit of the objective.
5. Discerning
The Discerning Phase of Performance is where you evaluate what your commitment to achieving the goal is. In this phase you may be experience a regression in energy toward the goal, even if your ability to achieve it remains high. If you feel your motivation to keep pursuing this goal is low, you may consider having a motivational outlook conversation with a manager, coach, or even a colleague to investigate whether you should keep pursuing this goal, or if you can shift your motivational to a more optimal outlook toward achieving the goal.
Assessing the Phase of Performance for yourself, your direct reports, or your team will help leaders in any context consider the type of leadership that help focus and inspire yourself and others during the pursuit of critical business objectives.
Assess in the Self-Context
Assessing in the Self-Context is where you determine indicators of ability and energy on a work-related goal. This helps you understand why you learned during the pursuit of past goals and how you may be more effective in pursuit of this new one. Assessing in the Self Context will help you increase your self-leadership skills and will empower you to have control, connectedness, and competence to perform at a high level.
Assess in the One-to-One Context
Assessing in the One-to-One Context is where you consider the ability and energy of others during the pursuit of a goal. By taking the time to analyze indicators of ability and energy related to an agreed upon goal will increase the quality of your one-to-one conversations. Continually assessing an individual contributors energies and abilities toward a goal will build trust and help develop them to be self-sufficient high performing employees.
Assess in the Team Context
Assessing in the Team Context is all about you helping your team work together to achieve their goals. A team leader needs to assess the collective ability and energy of the team toward the defined objective. You can increase a team's performance by consistently, at least every two weeks, assessing their performance and giving the right type of leadership that is aligned with the phase of performance they are experiencing. Assessing Phases of Performance in the team context helps teams stay on track toward the objectives and increases team morale and productivity.
Gain critical insights from @InspireSoftware on how to continually assess #performance so you can stay engaged and effective during the pursuit of your #goals:

Tweet this!
Assess in the Organizational Context
Assessing in the Organizational Context is all about understanding the organizations key strategies, then having a line of sight throughout the organization on how teams and individuals are doing toward their goals. Like individuals and teams, organizations experience the phases of performance toward corporate strategies. Goal transparency in an organization not only can be a vital information sharing strategy, it can help the entire organization understand where they are in the process. It's also important that leaders in the organizational context encourage individuals and teams to align their goals with organizational goals. Understanding the collective energy of the organization through performance pulse checks and engagement surveys, leaders in the organizational context can utilize appropriate skills and communication strategies to improve the overall performance of the organization
Assess in the Alliance Context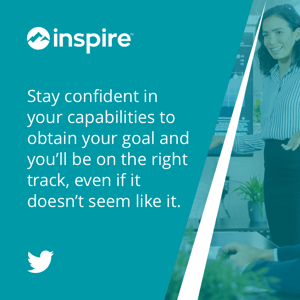 Assessing in the Alliance Context helps keep critical common objectives of two separate organizations on track and productive. Analyzing the energies and abilities of the objective both organizations are collectively pursuing will improve the outcomes of the alliance. This context is a bit more difficult than the others because it's something that's more difficult to measure and keep a pulse on like an individual or a team. It is important for leaders in this context to also look at themselves as members of the alliance to see how your responsibility plays a role in the overall contribution to the common goal. By being committed to assessing the performance of a organization-to-organization goal, you will nurture a high-achieving alliance.
Assessing the Phase of Performance of a goal in any context is an essential leadership practice that will keep you increase the engagement and productivity of individuals and teams. By taking the necessary time and effort to assess the ability and energy of an individual, team, organization, or alliance to achieve a specific outcome, you are improving your business process and developing a culture of excellent, ongoing performance. When you look at where you are, where you want to be and create a plan to get there, you will be on the road to successfully becoming a High Performing individual, team, or organization.
Want to read more about Assess or the other four practices of leadership? Explore this and more in Dr. Drea Zigarmi's book, Achieve Leadership Genius.
Learn more about the 5 contexts of leadership discussed in this article: