Dr. Don Meyer, in a Huffington Post article entitled, So Near, and Yet, So Far chronicled the heroic story of Florence Chadwick, and American Swimmer who attempted to become the first woman to swim across the Catalina Channel, a 21 mile journey off the coast of California, between Catalina Island and Palos Verde, California.
During her first attempt, a foggy day on July 4th, 1952, Chadwick swam for nearly 16 hours before she finally had enough. Discouraged, tired, lost, and confused by a thick marine layer that day, she asked her support crew to pull her from the water. She could go no further.
Shortly after being pulled from the water, the crew realized that she was less than a mile from the coast. Later, Chadwick told a reporter, "I'm not excusing myself, but if I could have seen land I know I could have made it." The fog disoriented her and the lack of modern technology or data did not afford her crew to give her the encouragement she needed to press on toward her goal of completing the epic swim.
Ever get so close to reaching your #goals, but fall short? Learn about the Cautious Phase of #performance from @InspireSoftware and how you can push further to success.

Tweet this!
Phases of Performance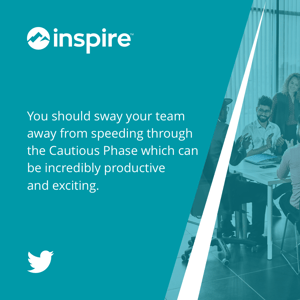 Behavioral science reveals that every individual, team, or community of people pursuing a dream or an objective goes through a series of phases in their performance toward a goal. While struggling her way through the cold dark waters of the Pacific Ocean during the later hours of July of 1952, Florence Chadwick experienced something similar to one of the most unpredictable phases of performance, the Cautious phase. The phase where you are capable of achieving the goal, but uncertain about the fate of the objective you're attempting to achieve.
In today's workplace, it is not uncommon to be shrouded in fog and uncertainty in the pursuit of a goal. Even if you have the skills or motivation to achieve the objective, there are a host of unforeseen and unpredictable variables that can cause you uncertainty about continuing to pursue the goal.
The Cautious Phase of Performance is characterized by two key human elements as it relates to the cognitive and emotional pursuit of an objective--our Ability to achieve the goal and our Energy to pursue it. Both of these elements can cause confusion and uncertainty, for both the individual and a team leader during this phase. How you respond during this phase of the performance, as an individual, a manager, or a team leader, can be the difference between effectively pressing on toward the goal, or getting "out of the water" before you've reached the shore. "In the Cautious Phase of Performance when Ability is moderately high your Energy fluctuates for any number of reasons." according to Dr. Drea Zigarmi, CoAuthor of Achieve Leadership Genius. "The trick in the Cautious Phase is to trust your Ability, and to fortify your Energy toward the goal."
Moderate to High Ability
One of the biggest challenges of the Cautious Phase is to honestly assess your Ability in relation to the end goal, given all that you've discovered during your pursuit of the goal to this point. During this phase, it's critical to have regular check-ins on the overall progress toward the goal. Part of your check-in conversation should center on the individual or teams specific abilities to achieve the end goal.
Questions that increase the quality of conversations about Ability during this phase range from:
What activities or tasks do you still have left to do toward this goal?

Has the objective shifted at all?

What solutions have you explored to address the problems you discovered during the Confronting Phase of Performance?

Are there any new skills you can learn or improve that may help you make more efficient progress on this goal?
Your ability to reach goals relies on the stabilization of your ability and energy. Find out how to navigate the Cautious Phase in @InspireSoftware's latest blog:

Tweet this!
Variable Energy
If Ability is difficult to Assess during the Cautious Phase, then Energy is downright unpredictable. It's even more critical to discuss Energy levels toward the goal during regular check-ins during this phase. Part of your check-in conversation should center on what may be positively or negatively impacting the individual or teams motivations to achieve the end goal at this point.
Questions that increase the quality of conversations regarding an individual or team's Energy toward the pursuit of a goal during this phase range from:
How would you describe your motivation toward the pursuit of this goal, at this moment?

You've made good progress on the goal to this point, is there anything else that would help sustain your energy toward completing this goal?

Is there anything internally within the team or organization that may be affecting your motivational outlook toward continuing to pursue this goal?

Is there anything I can do to minimize your stress or the stress of the team at this time?

Pushing Through
Two months after her first attempt to swim the Catalina Channel, Florence Chadwick embarked on another attempt to reach her goal. And, though the fog was just as dense as her first attempt, this time she had the proper balance of energy and skill to complete the journey. Her time was 13 hours and 47 minutes, breaking a 27-year-old record by more than two hours, and thus becoming the first woman to ever complete the swim.
How you proceed through Cautious Phase of Performance can make or break your team's ability to reach its goals. Inspire them to push on toward the objective by finding ways to help them engage their energy and motivation to do so. Achieve leadership genius by effectively navigating the choppy and foggy waters of performance in your organization.
To learn how to better combat issues you may face during this phase, check out these leadership tactics to guarantee success.